Stop Worrying About your Debt.
Call us Now to Take the First Step.
August 18, 2015
/
/
Comments Off

on Bankruptcy Court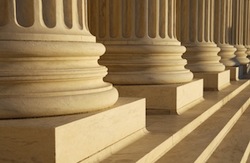 Oakland Bankruptcy Court Attorney
Feel Confident Going To Court With The Right Attorney
At the Law Offices of Melanie Tavare, we understand that any legal proceeding can be stressful. Having to appear in front of a judge can be overwhelming, but having an experienced attorney who knows the local court culture goes a long way in alleviating that stress. Most debtors will never have to appear in front of the bankruptcy court, but for those that do, having excellent legal representation can make the difference between a fresh start or the dismissal of your bankruptcy case.
What Is Bankruptcy Court?
The United States Bankruptcy Court was created by an act of Congress in 1978 under Article 1 of the United States Constitution. Federal District Courts have jurisdiction over bankruptcy cases, however most Districts refer their bankruptcy cases by a standing order to Bankruptcy Court. This means that most bankruptcy cases will almost exclusively be handled by the Bankruptcy Court and not the Federal District Court.
Will I Have To Go To Bankruptcy Court?
As a general matter in the Northern District of California, Oakland and San Francisco divisions, most people who file for bankruptcy will not have to appear in front of the bankruptcy court. Instead they will attend their Meeting of Creditors or section 341 meeting and that will be the extent of their experience with bankruptcy court. However, in some cases Debtors will need to appear before the actual court. You may be called to appear in front of court in the following situations; however this list is not exhaustive:
Objections to Plan Confirmation in Chapter 13
Objections to Discharge in Chapter 7 or Chapter 13
Motions for Relief from the Automatic Stay
Motions to Dismiss in Chapter 13 cases
Objections To Plan Confirmation In Chapter 13:
This occurs when a creditor or the Chapter 13 Trustee has objected to the plan filed by the Debtor. If the objection cannot be worked out beforehand, then the Debtor will need to be present at a Confirmation Hearing where their attorney will make arguments as to why the plan should be confirmed. The bankruptcy judge will then decide the issue.
Objections To Discharge In Chapter 7 Or Chapter 13:
In some extreme cases a creditor or the Chapter 7 or US Trustee may object to the entire discharge of the client's debt. Most often this occurs when the moving party believes that the debtor has engaged in fraud or has otherwise been dishonest in their bankruptcy papers. If an agreement cannot be reached then the Debtor and their attorney will go before the bankruptcy court and have the judge decide.
Motions For Relief From The Automatic Stay:
When you file bankruptcy, an automatic stay goes into effect which prohibits any of your creditors from attempting to collect money or assets from the bankruptcy estate. In some cases, the creditor will move the court to lift the automatic stay so they can take collection action against a certain asset. If you object to this and an agreement can't be worked out, the bankruptcy court will decide the matter. It is often recommended the Debtor attend these hearings with their attorney.
Motions To Dismiss:
One of the most common reasons a motion to dismiss is filed in a Chapter 13 case is because the Debtor has fallen behind on their Chapter 13 plan payments. If the Debtor and the Trustee cannot agree on a resolution to the payment deficiency, there will be a hearing before the bankruptcy judge who will decide whether the case should be dismissed or the Debtor should be given more time to catch up on their payments.
Contact us Today
Don't go before the bankruptcy court unprepared. Hire an attorney who has the experience you need to get the best result. Contact the Law Offices of Melanie Tavare today for a free consultation.
The Law Offices of Melanie Tavare is a debt relief agency. We help people file for bankruptcy relief under the Bankruptcy Code.
"Melanie is the best she very responsive and helpful throughout the process everything was taken care of smoothly. If you are thinking of going through bankruptcy she is the best attorney for you. I will forever be grateful having the chance to work with her. She is very honest too."
Sandhya.
"I can't thank Melanie enough for helping me through a challenging process and doing so with incredible knowledge, professionalism and tenacity! She went to great lengths to keep me informed, she responded quickly to my questions, and communicated in terms that I could understand. I highly recommend getting in touch with Melanie should you have the need."
Carrie.
"Choosing to work with Atty. Melanie has been one of the best decisions I've ever made. She was a very patient professional to work with and attentive while providing valuable solutions to all of my concerns. If you are searching for of an Attorney who is knowledgeable, transparent, and diligent - well that's Atty. Melanie."
Marwin.
"What I liked about working with Melanie was how prompt and easy to work with she was. She made the process clear and understandable with as little stress as possible. I would work with her again and recommend her to others."
Ryan.